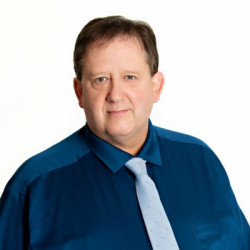 Trevor Hague
Business Agent
---
Prior to Trevor joining Local 955. Trevor was a Union member of I.W.A./Steelworkers in Radium, British Columbia for 20 years, (1986-2006). In 2004, the I.W.A. amalgamated with the Steelworkers Union. During his time with I.W.A./Steelworkers, Trevor was a Job Steward for 4 years and the Vice Chair Person for 2 years before moving to Alberta in 2006.
Trevor began his career with Local 955, October 1st, 2008, when he was requested to work with Voice Construction. Trevor was hired to run a Scraper at the Fort Hills site, which was Petro Canada at the time.
Despite the challenges of the Business Agent role, Trevor confirmed this is the best job he has had in his career. Members have shared valuable lessons and knowledge, particularly long-standing members. Trevor appreciates the advice passed down to him from Local 955 Brothers and Sisters. With this knowledge and his past experience, these are the things Trevor brings to the table every day.
In regards to specific people influencing Trevor during his career, Trevor advised, there is no way to answer that other than to say it has not been just one person. It has been a team of people that work together for the same goal of representing the membership to the best of our abilities. They have all influenced me in one way or another.
Trevor appreciates his position and wants to represent the members at Local 955 to the best of his ability and ensure members voices are heard during negotiations. Trevor is happy to meet with members and discuss any issues they may have.
Trevor feels safety is 100% the most important thing on any worksite. Trevor wants all members and workers, regardless who they work for, to return home injury free at the end of the day.
View All Team Members