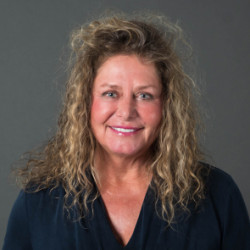 Sonia Donaldson
Recording Corresponding Secretary / Trustee
---
Sonia Donaldson is a 14-year IUOE 955 member in good standing (2008) and honored to serve her second term as trustee on the Executive board.
Sonia's first OE position was with Voice Construction in 2008 running tractor, rock truck and packer.
Sonia's biggest influence in her career was 46-year IUOE 955 member Dan Backs. Dan became a huge mentor and influencer to Sonia because of his extensive experience and professional involvement as a Business Representative and agent, Organizer, Secretary-Treasurer, Canadian Federation of Labour, 955 Executive Board, Building Trades Rep., IUOE 955 Training Trust Fund, Chair of numerous committees etc.
Sonia's mandate as an executive board member is to stand behind all members, address concerns and issues and serve our members to the best of her ability.
She currently serves on the IUOE 955 Sister's committee, IUOE American Women's committee and Tradeswomen Building Nations. She was honored to sit as a delegate at the Alberta Federation of Labour 2021 convention.
Sonia is fully committed and driven as your Trustee for better and safer working conditions for all of our Sisters and Brothers.
View All Team Members