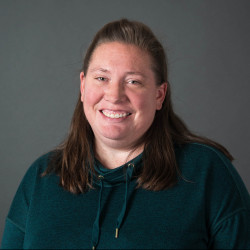 ---
During high school Katie Lucier worked at a gas station as an attendant and cashier. Katie started working with the IUOE in 2006 as a group member when she was hired on at the Trans Alta Tri-Municipal Leisure Facility in Spruce Grove and became a member of Local 955 in 2017.
Katie feels her current roles as a Mom and Zamboni Operator at Trans Alta Tri-Municipal Leisure as her best jobs. Katie's job at Tri Municipal Leisure that has allowed her an up-close look at how business works alongside the Union and its Members, and how to create a good relationship between all entities. Katie's commitment to expanding her knowledge as well as being able to relate to people has kept her successful throughout her career.
Katie's biggest influence in her life and career has always been her family. Her parents always encouraged her that to get ahead in life you need to practice hard work and dedication.
As a member of the Executive Board, Katie hopes to always represent and help educate Member's on what the Union stands for, emphasizing how the Union is here to support them.
Katie believes that safety is always important and currently sits on the Health & Safety Board at the Tri-Municipal Leisure Facility. Katie stands firm that a safe work environment always makes for a happier and more enjoyable experience for all.
View All Team Members