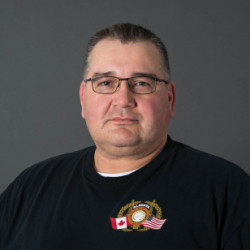 Joe Lafond
Member at Large Northern District
---
Joe Lafond began his time as a Union member in 2017 at his job at KMC Mining.
Joe is a leader in safety and believes his knowledge, patience, focus on mentoring and ability to adapt to a changing industry are some of his strongest skills he brings to his career.
Joe names his job at KEM Enterprises as Journeyman Boom Truck Operator as his best job. There was always a feeling that employees were not just a number and that the opinions of everyone mattered. It is also where he first started training apprentices, a part of his career that he values greatly.
Joe credits George Cartier, his Journeyman when he first became a Boom Truck apprentice as his most influential colleague. He credits this to George's knowledge and patience. His biggest influence in both his career and life is Joe's dad, who worked for Syncrude for 40 years. Joe intentionally carries his dad's work ethic, morals and values with him every day.
Joe looks forward to assisting the Executive Board in meeting and exceeding any and all of the goals they set forth.
Safety and proper training are the number one priority for Joe. "The equipment we work with and the jobs we do can be very dangerous. We all have someone who counts on us outside of work that we need to make it home to everyday! My safety is #1, keeping me safe gives me the ability to keep my fellow co-workers safe!"
View All Team Members