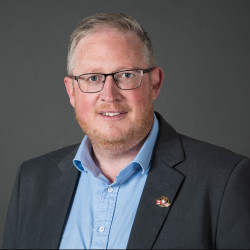 ---
Declan Regan "grew up" in the Union. His father is a 45-year member and spoke often of the advantages of being part of a Union and the importance of this establishment in society.
Declan began his career in the Overburden sector and eventually went on to achieve his Journeyman Mobile Crane certificate. During his years working in the field he worked industrial construction, crane rental and industrial plant maintenance. He held supervision roles along with many years advocating as a Job Steward and Bargaining Committee member.
Declan is a 15-year member and has developed a strong passion for Local 955. He is a strong proponent of open communication and the importance of organizing. He is passionate about collective bargaining and the process involved in getting the best deal available for the members. Declan is also a Health and Wellness, Pension Trustee, this role brings with it great responsibility to ensure members are best served with their benefit plans and can look forward to a solid retirement.
Declan is looking forward to his role as President of IUOE Local 955. He believes that advocating for working people is crucial to ensuring the gains we have made are not lost to a struggling economy. With his ability to bring his experience in many sectors and his years as a Business Agent fighting for workers, Declan looks forward to bringing that voice to the forefront as the Chair of the Executive Board.
View All Team Members