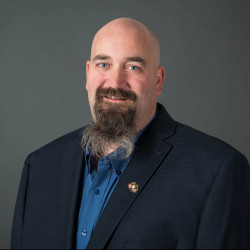 Chris Flett
Business Manager
---
As a young man, Chris Flett worked at local IGA in Fort McMurray. It was at this job, Chris was terminated for trying to bring the UFCW Union into the IGA grocery store. This valuable lesson taught Chris that a Union had the ability and the will to fight for him.
In 2007, Chris started his equipment operating career with KMC Mining as a Serviceman performing various tasks -which included fuel & lube and working on an oil change crew. Chris eventually took on the role of Preventative Maintenance Inspector. He was also the, shift Job Steward and was then assigned to Chief Job Steward. Chris is a fighter, who is not easily intimidated and is not afraid to make tough decisions. These characteristics, along with being a person of strong conviction and compassion makes Chris successful in his career.
Chris was a Business Agent in the Fort McMurray Northern District office, for 7 years and has the honor and privilege of representing IUOE Local 955 as Business Manager for the last 4 years. Chris names his Business Manager role as his best job ever; he believes it is a higher calling. The role is stressful, time consuming and incredibly hard work but he would not choose to do any other job. He loves serving the membership and is always actively seeking to improve the Union's collective future.
There are far too many incredible Operating Engineers for Chris to list as being influential to him. He is thankful for all of the guidance and expertise bestowed upon him over the years and he hopes to return some of the knowledge imparted on him.
Chris attributes his parents as having the biggest influence on his career. They taught him that if you want something in this world, you must go out there and earn it! Nothing that is "worth it", comes for free and no one is going to just give you anything, go for it, you will appreciate it so much more that way.
As the Union is still facing some significant headwinds, Chris is working tirelessly with an incredible team to improve the work outlook and to secure future work. With two of the biggest hurdles today being COVID and the shift to "Green Technologies", he believes his "success" will be based on securing great paying, safe jobs well into the future. He wants the next generation of Operating Engineers to be just as proud as he is to belong to such a great Union.
Safety is Chris' number 1 priority. He believes we all work too hard, for too long and that we all deserve to go home at night to our families. Safety and the culture developed around it is one of the biggest selling features of the Operating Engineers. "We cannot let our safety culture slip at all as there are many out there who would love to see us fail so they can take over. We will not let that happen. We are the highest skilled workforce in our industry and we are incredibly proud of that."
View All Team Members