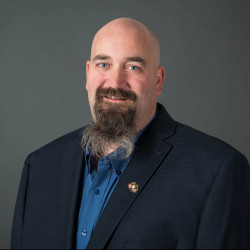 Chris Flett
Business Manager
---
Chris was elected Business Manager of the International Union of Operating Engineers Local 955 (IUOE Local 955) in 2017, and again in 2021, and has served with dedication, pride and integrity ever since.
He got his start in labour at a young age working at a local grocery store in Fort McMurray, where he played a key role in attempts to organize the workplace. It was then he saw firsthand the benefits a unionized jobsite could bring.
His path with IUOE Local 955 began in 2007 as an Serviceman with KMC mining, where he was eventually promoted to Preventative Maintenance Inspector and filled the roles of Job Steward followed by Chief Job Steward. After that, Chris passionately served as an IUOE 955 Business Agent at the Northern District office for seven years.
Chris, along with his incredible team, work diligently to ensure members in all sectors secure the best collective agreements possible, while focusing on safety, training, gaining market share and attracting and retaining new talent to Local 955's membership.
Chris looks forward to serving Local 955 for many years to come.
View All Team Members