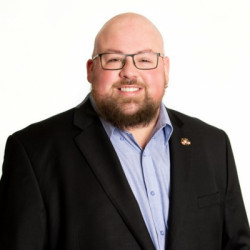 Anthony Noseworthy
Assistant Business Manager
---
"Silence is acceptance. Speak up for what's right."
Anthony has served as IUOE Local 955's Assistant Business Manager since 2021, a position he takes great pride in as the Local's second-in-command, reporting directly to the Business Manager and interfacing with all department heads and regional representatives.
He began his journey with Local 955 in the mining sector as a heavy equipment operator and industrial plant maintenance worker before taking on various leadership roles with reputable unionized contractors.
Anthony brings several years of experience in growing and fostering positive working relationships and environments, and holds accreditations and certificates in Indigenous outreach, labour relations, leadership, sales, occupational health and safety and more.
Teamwork, respect and solidarity are Anthony's guiding principles and are a part of everything he does, this includes his mission to make IUOE Local 955 one of the strongest, largest and most diverse union locals in Western Canada.
View All Team Members