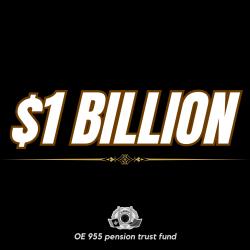 Posted on November 29, 2023
It was a monumental day at Local 955, where we celebrated with around 100 retirees, their families, members and others, the delivery of the $1-billionth dollar from the OE 955 Pension Trust Fund. Yes, ONE BILLION! The recipient, long-time member, Oliver Lepps, who has been a key figure in our proud local for many decades.

"Our pension trust fund would not be where it is today without those who came before us. To members who took the crucial step of starting our plan a half century ago, we can't thank you enough. The number of members and their families this pension has supported after a lifetime of hard work is immense and is another big reason IUOE Local 955 remains one of the largest, strongest, and proudest unions in western Canada," said Chris Flett, Business Manager, IUOE Local 955.

"I can't think of a better way to close out the 50th anniversary of the pension trust fund than giving out the billionth dollar. It truly has been an incredible year for both our local, and our pension trust."

In September, Business Manager, Chris Flett also announced a 5% pension increase for members in good standing, retroactive to Jan. 1, 2023.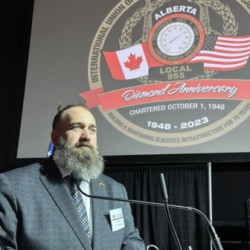 Posted on November 1, 2023
Dear sisters and brothers,

During IUOE Local 955's 75th Anniversary Gala and Long-Service Awards on September 23, I was pleased to announce a 5% pension increase to all good-standing members, effective October 1, 2023 and retroactive to January 1, 2023. To be able to announce such an increase, and in the 50th anniversary year of our Pension Trust Fund, was an absolute honour.

What does this mean?

For our good-standing pensioners, you would have seen two things on your October 1 pension payments:

• an increase of 5% of regular payments, and
• a retroactive payment back to January 1, 2023 for the 5% increase

For our good standing, non-retired members, your accrued pension at January 1, 2023 would have been increased by 5%. So whatever pension you had earned by the start of the year, just grew by 5%!

We know it's been a long-time since the plan has been able to give an increase, and with high inflation, this has been felt even stronger. The board was honoured we were able to provide an increase this year, which hopefully reduces some of those stressors for you.

We are thankful to previous boards and administrations that, through careful stewardship of the plan, have steered it to be the strong, stable plan we see today. We are also incredibly thankful to plan members who have put in years of hard work, which has resulted in the plan becoming one of the biggest multi-employer pension plans in Alberta.

Our plan has weathered many storms over the years, has stood up to those tests, and has been a source of important, reliable income for so many. I'm incredibly proud of that and excited to see what the plan holds for members over the next 50 years.

In solidarity,

Chris Flett,
Business Manager and Pension Trust Fund Chair, IUOE Local 955