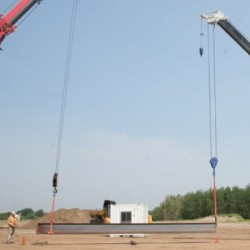 Construction Rigging
This is a blended learning course. You must complete an online theory component prior to attending the in class lessons and practical application portion.
This blended learning course offers a combination of online theory and two days of instructor led theory and practical applications. The online theory lessons (approximately 3 to 5 hours) must be completed on your own time 5 days prior to the course start date.
Developed from the Crosby Group, the course discusses rigger's responsibilities, Alberta OH&S regulations, sling compositions, hardware descriptions and working load limits. Students complete rigging calculations, identify different rigging hardware, inspection criteria and maintenance practices. Basic load rigging using hooks, shackles, chain, wire rope and synthetic slings will be utilized during a practical phase of the training. Standardized crane hand signals and basic knot tying are also demonstrated. A Certificate of Completion is awarded for successful students.
The in class and practical training will be completed at the Budd Coutts Apprenticeship and Education Centre located at the corner of Range Road 232 and Township Road 584 in Thorhild County No 7. Alberta.