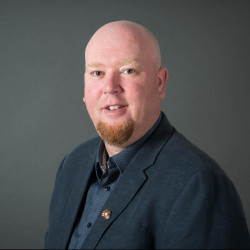 Patrick Dunphy
Northern District
---
Patrick's working career began on a fishing vessel as a deckhand. The hard work required on a fishing vessel as a deckhand is a good indication Patrick's work ethic.
In 2006, Patrick became an Operating Engineers Member shortly after starting work as a surveyor with Union employer, HCS Focus and has since worked as a surveyor with various companies. Patrick was appointed Job Steward shortly after he became a Member in Good Standing and maintained his Job Steward role, until starting as a Business Agent.
Patrick's main influences were his father and the first employer he worked with when starting with the Union. Patrick's dedication is one of his stronger traits, his loyalty to Members and the Union are reflective in his daily operations. One of Patrick's favorite jobs was surveying a plan from the ground up on a CNRL site.
Patrick is working to earn the respect and trust of the Members and be a great Business Agent for Members and the Union. Patrick feels getting everyone on the same page, working together towards common goals to create a workplace where everyone enjoys coming to work. One of Patrick's better skills is communication which is key to success.
Safety is number one according to Patrick. He feels if you can't do a safe job, then don't do it at all. Patrick wants to see everyone go home to their loved ones at the end of each day work day, the same way they showed up. Patrick is the latest Member to join the Business Agent team, we look forward to his contributions, celebrating successes and milestones as the year's progress.
View All Team Members