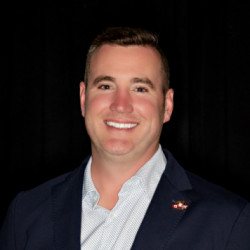 Doug Lozeron
Business Agent
---
Doug' Lozeron's family has always strongly supported the OE's. When Doug was young he didn't always listen to every piece of advice his family offered (even if he should have), he did take their advice and took the opportunity to become a member of Local 955 in 2005. Although this type of work environment was foreign to him, his wide-eyed approach to learning helped him connect with amazing mentors.
Doug's first Local job was on the Pipeline Board as an oiler for Bannister. It was here that he got exposure to operating equipment and eventually became an indentured crane apprentice.
Doug names his job at Sterling Crane as a crane operator as his best job. He worked with a tight group that regularly changed roles between operator or rigger. Everyday at work was fun. This type of environment allowed for creative problem solving through applying classroom learning and the groups' collective experience. There were some very unique challenges and every problem was solved because of the high level of attention to detail and trust within the group.
Although Doug has made mistakes and will again in the future, he attributes his best skills as being empathetic, inclusive and non-judgmental. He takes pride in being the co-worker and Business Agent that people can trust with difficult and even embarrassing questions or concerns. He believes this is a dynamic that results in stronger moral, greater motivation and better performances from everyone around him.
Doug's biggest influence in his life is his family and has had several family members who are also Brothers of Local 955. The most notable influences on his career development would be his father and older brother. Both are respected, knowledgeable and open-minded.
In recent years, Doug has had the opportunity to work closely with his brother and truly believes there is no one he could have learned more from.
Doug has always followed in his father's footsteps. When Doug was able to become a member and then a crane operator, his father was very proud. His dad was always very purposeful in teaching the Union values. If it was not for his fathers help and direction, Doug would not be where he is today.
As a Business Agent, Doug intends to always approach situations from an honest, empathetic place when solving issues for members. He hopes to prove himself to be a person that members can trust and believes no member should fear for their jobs or their security at work. He will strive to be a resource for solving issues without creating more issues.
Safety is always a paramount topic in any industry and will continue to be in the future. Doug believes everyone should embrace safety culture to help improve the quality of life of those around them. He is committed to promoting and providing high-quality, safe work that the Union members have proven to provide.
View All Team Members