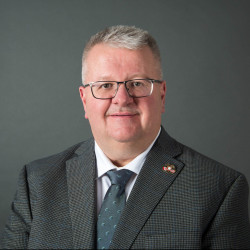 Kevin Thomas
Trustee / Auditor
---
Kevin Thomas became a member of IUOE in 2006. His first experience with the Union was when he was hired as a bus driver with Cardinal Coach Lines (now known as First Canada) on the CNRL Horizon Site. He was then hired on April 5th, 2008 as a Business Agent in the Fort McMurray Norther District office.
Hard work has never been something Kevin shied away from. His first job was the age of 15 at a local bingo hall, making $13.00 per night.
Kevin feels his Business Agent position is the best job he has ever had. Kevin enjoys dealing with the different sectors and providing services to the members of our Local.
While employed as a driver for a motor coach company in Cape Brent, Kevin worked with the owner, Ralph MacPherson. It was Ralph who made a lasting impression on Kevin as he was a strong example of a leader who prioritized his staff. Kevin remembers Ralph being a leader who cared for and supported his employees and their families with whatever they may have been dealing with.
Kevin attributes Norman 'Budd' Coutts as being the biggest influence is his career. Norman had the reputation of being of huge importance not only to the Local, but to the labor movement in Alberta. Norman was a tireless supporter of the IUOE and wanted everyone to become better throughout their career. Kevin thanks Budd, Joan and their family for giving so much to Local 955. His contributions will never be forgotten.
Kevin's decision to become a member of the Executive Board was to have the opportunity to work for the betterment of the Members, and their beneficiaries. He believes it's the Executive Boards responsibility and fiduciary duty.
Kevin believes safety must continue to be the top priority at all worksites as well as at home, by showing commitment to best practices and providing leadership in safety compliance. All Members, employers and employees must be dedicated to a safe workplace so that all workers return home to their families and loved ones. Kevin also believes that although taking proper safety measures may cost more in the beginning, an accident is always costlier than the safety procedures that can prevent it.
View All Team Members