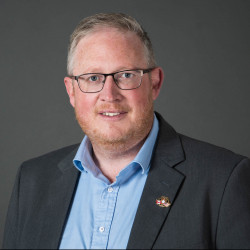 Declan Regan
Business Agent
---
Declan Regan "grew up" in the Union. His father was a 40-year member and spoke often of the advantages of being part of a Union and the importance of this establishment in society.
Eventually, Declan began his career in dirt work and Overburden and went on to operate a crane. He's worked as a Job Steward and has five years of supervisory experience with Mammoet.
As an Member in Good Standing since 2006, Declan has developed a strong passion for Local 955. He is a strong proponent of open communication and the importance of organizing.
"You're only as strong as your Membership is engaged," says Declan. "Organizing needs to be supported by the executive. We have an opportunity in the next couple of years to really make a difference in this area."
Not only is Declan on the Executive Board as President, he is also working as a Business Agent. For Declan, this is the ideal combination.
"I will be able to bring an in-house perspective to the board and I'm also recently hired out of the field. So I have the knowledge of what's happening on the front lines. Hopefully this will be an advantage in the short-term."
One of Declan's goals as a Business Agent in the next several months is to get out to as many work sites as possible.
"I really enjoy getting out and seeing people. There's lots of ways to reach people, especially with new technology, but you can't discount face-to-face interaction. It's ultimately the best way to communicate."
View All Team Members