Scholarship Recipient Grateful to Local 955
Posted on March 29, 2017
---
Learning can be challenging for the average person, but when you have a severe learning disability it can be downright discouraging. Reg Hitchcock Jr. is all too familiar with this struggle. He was diagnosed with a learning disability in Junior High, but based on the success he's had in his young life, you really wouldn't know it.
At the age of 14, Reg was the youngest student to complete an Oxy Fuel Welding Course at his local community college. He graduated high school early and with honors. Reg has also completed over 50 nationally recognized construction-related safety training courses and holds 29 valid tickets and over 21 certificates.
Last year Reg applied for the N.B. Coutts Scholarship offered by Local 955, and he won. This annual scholarship is awarded to deserving students who are enrolled in accredited post-secondary institution.
"I was very happy to hear I was selected as one of only 16 students to receive this scholarship for 2016-2017," says Reg. "This was the largest award I won and it made the most difference in my life. It has allowed me to focus on what's most important, my studies."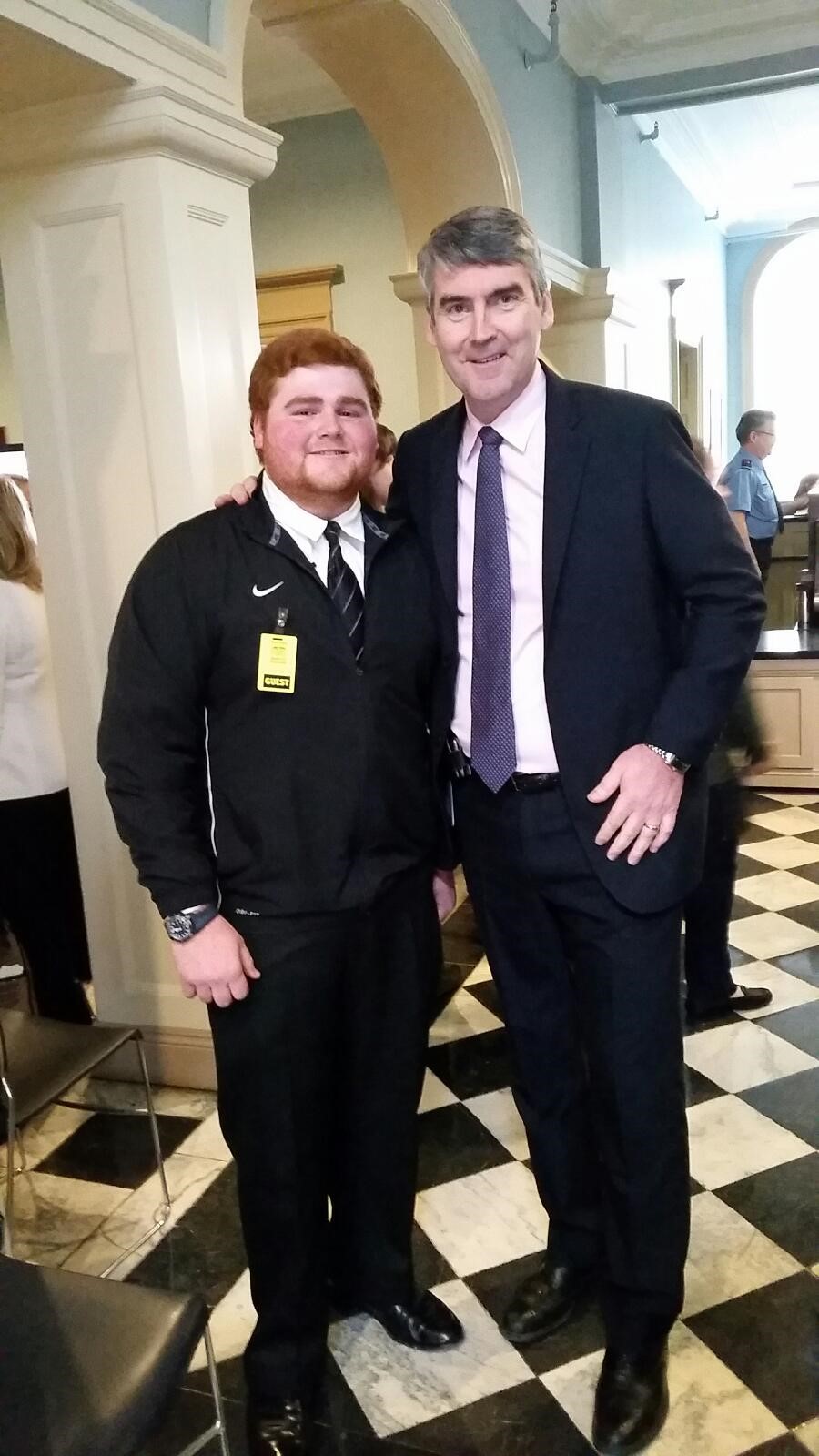 The N.B Coutts Scholarship program was created over 20 years ago in honour of Budd Coutts, who served Local 955 as Business Manager, and later as General Secretary Treasurer at the International level. His leadership was fundamental in creating this Union's first pension and training plans.
Reg is currently enrolled at the Nova Scotia Community College (NSCC) in Dartmouth Nova Scotia, where he's completing his first year in the Welding Diploma Course. He is maintaining honor marks so far and is looking forward to year two. He is extremely grateful for the scholarship and the opportunities he's seized because of it.
Any student awarded with this scholarship is entitled to receive up to $5000 over a two-year time frame. Scholarships are open to any Local 955 members or their dependents. Deadline to be considered for this year's round of applicants is August 18, 2017.
For more information or to apply, visit the scholarship webpage.
Image: (left) Reg Hitchcock Jr. with Nova Scotia Premier Stephen McNeil (right) at Province House on May 4, 2016.