'Winky Rides' Raises Over $50K for the SPCA
Posted on June 1, 2017
---
Sun glints off his riding goggles. He's poised. He's ready. He can't sit still. Riding is his passion, talent and legacy. Assuming dogs could talk, he would have told you that himself.
Allan (Sandy) MacDonald, OE955 member from Fort McMurray, adopted his dog Winky when he was six and a half weeks old. At the age of 10 months Winky, an adorable German shepherd, took his first long ride in the trailer of Sandy's motorcycle.
Sandy trained his dog to ride with him by pulling the trailer around by hand before Sandy hooked Winky up to their first bike, a 1999 Harley Davidson Heritage Softail Springer. Soon enough, Sandy started taking Winky on extended rides through various parts of Canada and the U.S.
"We rode to Las Vegas six times and to Tombstone three times," says Sandy. "Winky had a huge following in Las Vegas and Tombstone. He used to be allowed through the MGM Grand where my sister and I go for boxing matches. They let Winky go through as if he was a working dog."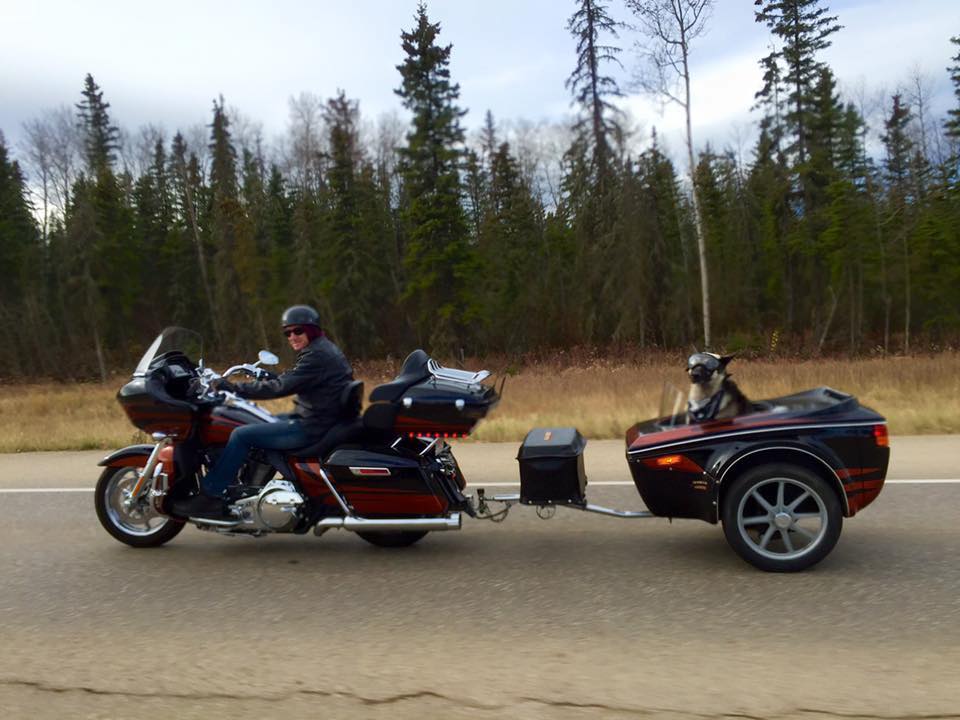 For fun, Sandy set up a website and Facebook page for Winky, not anticipating the rise in popularity Winky would achieve.
"The social media thing started with pictures of Winky riding on the German Shepherd Dog Community on Facebook and just kept getting bigger. One meme that was posted on Instagram of a ride we took in Arizona got 200,000 likes."
Now his Facebook page has over 7000 followers. Winky merchandise is also for sale, the proceeds of which are donated to Winky's Cause for Paws. Two years ago, Sandy decided to use Wink'ys popularity for a good cause and started fundraising for the SPCA. To date, they have raised $52,041.
"Winky's effect on people has always amazed me," says Sandy. "I think his biggest appeal aside from looks was his obvious love of riding. You can see it in the pictures. In all of our years of riding, Winky was always in the trailer waiting to go before I was ready. I always said when he quit doing that we'd know to slow down."
Sandy and Winky have logged over 96,000 kilometres in the 10 years they have ridden together. But, unfortunately all good things must come to an end. On October 6, 2016, Winky unexpectedly fell ill and died.
His death sparked controversy over the lack of emergency veterinary services available in Fort McMurray. Sandy phoned vets all over the area but no one was available. He ended up making an emergency call to the SPCA. Tara Clarke, Director of the Fort McMurray SPCA was happy to be able to be there with Sandy and Winky and to support them with medical attention from their in-house veterinarian.
"We were so sad about the loss of Winky," says Tara Clarke, Director of the Fort McMurray SPCA. "Our hearts went out to Sandy, but we were also glad to be able to be there when Sandy needed us. Winky and Sandy were a special team. They really exemplified the human-animal bond."
Winky's passing touched everyone in Fort McMurray and the online community that loved him. The Facebook post regarding Winky's passing was liked over 1900 times and had over 11,000 comments on it.
"People still come up to me in tears when they talk about Winky," says Sandy.
But this German Shepherd's legacy doesn't stop here. Harry Greb Glides joined the Winky Rides team on March 23, 2017. Greb is a pure bred black and silver German Shepherd from Iowa. He comes from a long line for service dogs. At a little over 17 weeks old, Greb has ridden nearly 80 kilometres already. Sandy is training Greb to pick up where Winky left off. It was originally intended for Winky to train the new pup, but the timing didn't work out that way.
"Everything will still stay Winky Rides, but with Greb as the front man. It all started with Winky, so to change the name just doesn't seem right. "
So what's in Greb and Sandy's future?
"I'm not sure if we will do Las Vegas this year, but definitely Edmonton, Red Deer and a few other places as he learns more," explains Sandy. "Maybe we will also do a sponsored ride where people can pledge money for a block of kilometres on Greb's trip. Winky and I did that on our last Vegas ride and took in $5000 in donations."
On May 25, 2017, Winky was awarded the first animal achievement award called the "Animal Hero Award" from the SPCA for Winky's work with the shelter and also for being an ambassador for his breed.
"The award is for an animal whose actions benefit others in some way," says Tara. "Winky really advocated for our community. He demonstrated what an important role pets play in our lives. We are truly grateful for everything that Sandy and Winky have done. They are family to us."
This year, Sandy and the Fort McMurray community are celebrating "Winky Day" on June 3. The day consists of a variety of events including a bike auction, activities, games and food and the unveiling of Winky's Memorial Garden. Community members are welcome to come and memorialize a pet that has passed.
Winky has become so important to the community that the Regional Muncipality of Wood Buffalo is actually proclaiming June 6th (Winky's birthday) as Winky day.
For more information about Winky, Greb and Sandy, their human, go to Winky Rides website and Facebook page!